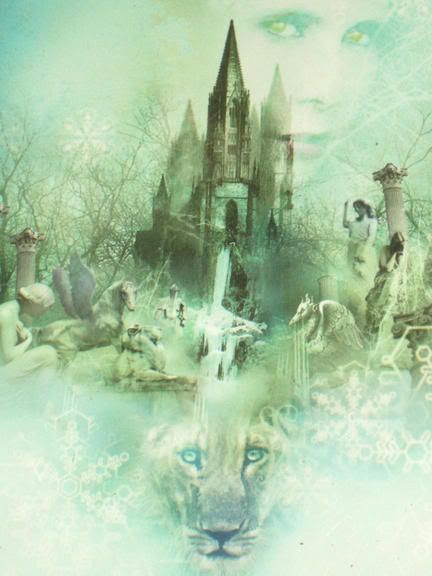 The Lion, the Witch and the Wardrobe
cover. Image:

photobucket
The Lion, the Witch and the Wardrobe
is a
fantasy
novel for children by
C. S. Lewis
. Published in 1950 and set circa 1940, it is the first-published book of
The Chronicles of Narnia
and is the best known book of the series. Although it was written and published first, it is second in the series' internal chronological order, after
The Magician's Nephew
.
Time
magazine included the novel in its
TIME 100 Best English-language Novels from 1923 to 2005
. It has also been published in 47 foreign languages.
Lewis dedicated the book to his god-daughter, Lucy Barfield.



Writing
Lewis described the origin of The Lion, the Witch and the Wardrobe in an essay entitled It All Began with a Picture:
"The Lion all began with a picture of a Faun carrying an umbrella and parcels in a snowy wood. This picture had been in my mind since I was about sixteen. Then one day, when I was about forty, I said to myself: 'Let's try to make a story about it.'"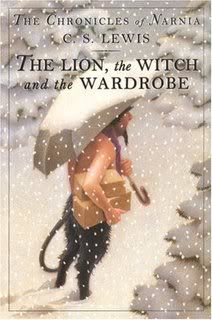 The Lion, the Witch and the Wardrobe.
Faun carrying an umbrella and parcels.
Image
:

photobucket
Shortly before World War II, many children were evacuated from London to the English countryside to escape attacks on London by Nazi Germany. On 2 September 1939 three school girls: Margaret, Mary and Katherine, came to live at
The Kilns
in
Risinghurst
, Lewis's home three miles east of
Oxford
city centre. Lewis later suggested that the experience gave him a new appreciation of children and in late September he began a children's story on an odd sheet which has survived as part of another manuscript:
"This book is about four children whose names were Ann, Martin, Rose and Peter. But it is most about Peter who was the youngest. They all had to go away from London suddenly because of Air Raids, and because Father, who was in the Army, had gone off to the War and Mother was doing some kind of war work. They were sent to stay with a kind of relation of Mother's who was a very old professor who lived all by himself in the country."
How much more of the story Lewis then wrote is uncertain. Roger Lancelyn Green thinks that he might even have completed it. In September 1947 C.S. Lewis wrote in a letter about stories for children: "I have tried one myself but it was, by the unanimous verdict of my friends, so bad that I destroyed it."
In August 1948, during the visit of the American writer Chad Walsh, Lewis vaguely talked about completing a children's book which he had begun "in the tradition of E. Nesbit". After this conversation not much happened - until the beginning of the next year. Then everything changed.
In his essay It All Began With a Picture C.S. Lewis continues: "At first I had very little idea how the story would go. But then suddenly Aslan came bounding into it. I think I had been having a good many dreams of lions about that time. Apart from that, I don't know where the Lion came from or why He came. But once He was there, He pulled the whole story together, and soon He pulled the six other Narnian stories in after Him."
On 10 March 1949
Roger Lancelyn Green
dined with him at
Magdalen College
. After the meal, Lewis read two chapters from his new children's story to Green. Lewis asked Green's opinion of the tale, and Green thought it was good. The manuscript of
The Lion, the Witch and the Wardrobe
was complete by the end of March 1949. Lucy Barfield received it by the end of May. When on 16 October 1950 Geoffrey Bles in London published the first edition, three new Chronicles -
Prince Kaspian
,
The Voyage of the Dawn Threader
and
The Horse and His Boy
- had also been completed.


Reception
Lewis very much enjoyed writing The Lion, the Witch and the Wardrobe and embarked on the sequel Prince Caspian soon after finishing the first novel. He completed the sequel in less than a year, by the end of 1949. The Lion, the Witch and the Wardrobe had not been widely released until 1950; thus his initial enthusiasm did not stem from favourable reception by the public.
While Lewis is known today on the strength of the Narnia stories as a highly successful children's writer, the initial critical response was muted. At the time it was fashionable for children's stories to be realistic: fantasy and fairy tales were seen as indulgent, appropriate only for very young readers, and potentially harmful to older children, even hindering their ability to relate to everyday life. Some reviewers thought the tale overtly moralistic, or the Christian elements over-stated — attempts to indoctrinate children. Others were concerned that the many violent incidents might frighten children.
Lewis's publisher, Geoffrey Bles, feared that the Narnia tales would not sell and might damage Lewis's reputation and affect sales of his other books. Nevertheless the novel and its successors were highly popular with young readers, and Lewis's publisher was soon anxious to release further Narnia stories.


Allusions
Professor Kirke is based on W.T. Kirkpatrick, who tutored a 16-year-old Lewis. "Kirk," as he was sometimes called, taught the young Lewis much about thinking and communicating clearly, skills that would be invaluable to him later.
Narnia is caught in endless winter that has lasted a century when the children first enter. Norse tradition mythologises a "great winter", known as the Fimbulwinter, said to precede Ragnarök. The trapping of Edmund by the White Witch is reminiscent of the seduction and imprisonment of Kay by The Snow Queen in Hans Christian Andersen's novella of that name.
The dwarves and giants are found in Norse mythology. Fauns, centaurs, minotaurs and dryads derive from Greek mythology. Father Christmas, of course, was part of popular English folk lore.
The main story is an allegory of Christ's crucifixion: Aslan sacrifices himself for Edmund, a traitor who may deserve death, in the same way that Christ sacrificed Himself for sinners. The cross maybe suggested by the Stone Table (reminiscent of Neolithic dolmens). As with the Christian Passion, it is women (Susan and Lucy) who tend Aslan's body after he dies and are the first to see him after his resurrection. Aslan suffers Edmund's penalty, and buys him back from the White Witch, who was entitled to him by reason of his treachery.
There are several parallels between the White Witch and the immortal protagonist of
H. Rider Haggard
's
She
, a novel greatly admired by C.S.Lewis.
Adaptations
The story has been adapted three times for television. The first adaptation was a ten-part serial produced by ABC Weekend Television for ITV and broadcast in 1967.
In 1979, an animated TV-movie, directed by Peanuts director Bill Meléndez, was broadcast and won the first Emmy Award for Outstanding Animated Program.
A third television adaptation was produced in 1988 by the BBC using a combination of live actors, animatronic puppets and animation. The programme was nominated for an Emmy and won a BAFTA. It was followed by three further Narnia adaptations.
Stage adaptations include a 1984 version staged at London's Westminster Theatre, produced by Vanessa Ford Productions. The play, adapted by Glyn Robbins, was directed by Richard Williams and designed by Marty Flood. The Royal Shakespeare Company did an adaptation in 1998, for which The acting edition has been published. In 2003, there was an Australian commercial stage production which toured the country by Malcolm C. Cooke Productions, using both life-size puppets and human actors. It was directed by notable film director Nadia Tass, and starred Amanda Muggleton, Dennis Olsen, Meaghan Davies and Yolande Brown).
In 2002, the Philipines's Christian-based "Trumpets Playshop" did a musical rendition that Douglas Gresham, Lewis' stepson (and co-producer of the Walden Media film adaptations), has openly declared that he feels is the closest to Lewis' intent. It starred among others popular young Philipino singer Sam Concepcion as Edmund Pevensie
.
The book and lyrics were by Jaime del Mundo and Luna Inocian. Music was composed by by Lito Villareal.
In 2005, the story was adapted for a theatrical film, co-produced by Walt Disney and Walden Media. It has so far been followed by two films, the third one co-produced by Twentieth-Century Fox and Walden Media.
Multiple audio editions have been released. The best-known consists of all the books read aloud by Michael York, Alex Jennings, Lynn Redgrave and four others. However, three audio CDs in the form of "radio plays" with various actors, sound effects, and music have also been released, one by the BBC, one by Radio Theatre, and one by Focus on the Family.
Source:

wiki
Related posts:
The Chronicles of Narnia
The Chronicles of Narnia (film series)
..................................................................................................................................
If you would like to keep up with all latest Randomnies additions, please subscribe to
RSS feed
or
subscribe to Randomnies by Email.