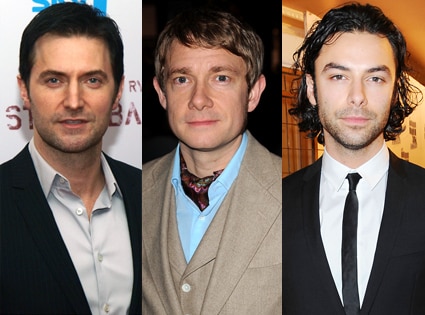 MAX NASH/AFP/Getty Images; Samir Hussein/Getty Images; Richard Young/startraksphoto.com
Peter Jackson has his fearless burglar in the bag. Or should we say, the Baggins?
The studios behind
The Hobbit
officially confirmed Thursday that British actor Martin Freeman will be playing the titular Shire hero, Bilbo Baggins, in Jackson's two-part
Lord of the Rings
prequel.
"Despite the various rumours and speculation surrounding this role, there has only ever been one Bilbo Baggins for us," Jackson said in a statement.
But Bilbo isn't going it alone in today's casting news. MGM, New Line and Warner Bros. also rolled out a roster of actors who will be playing the hobbit's comrades in treasure hunting and Smaug slaying...
Brit Richard Armitage, who presumably will be seen in
Captain America: The First Avenger
long before The
Hobbit
's journey concludes, has signed on to play Thorin Oakenshield, head of the company of dwarves who are off to recapture his lost inheritance.
Rounding out the troop are Aidan Turner and Rob Kazinsky as Kili and Fili; Graham McTavish as Dwalin; John Callen as Oin; Stephen Hunter as Bombur; Mark Hadlow as Dori; and Peter Hambleton as Gloin. (You never know which one of them is going to be the next Dominic Monaghan!)
The manly group will gather in February—possibly in New Zealand, possibly elsewhere—to start shooting the long-awaited epic.
If you would like to keep up with all latest Randomnies additions, please subscribe to
RSS feed
or
subscribe to Randomnies by Email.